Where can I buy Philips Magic Cream?
The Philips Magic Cream is no longer available under this brand-name. It has been renamed to Philips Bottom Balm.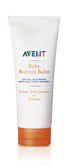 Same recipe
As the cream itself has not changed, the Bottom Balm can be used in exactly the same way as the Magic Cream.